MotherTouch™ PRE & PERINATAL MASSAGE CLASSES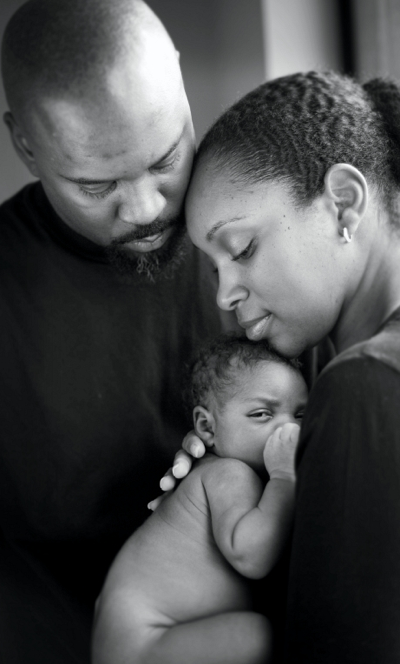 MotherTouch™ CERTIFICATIONS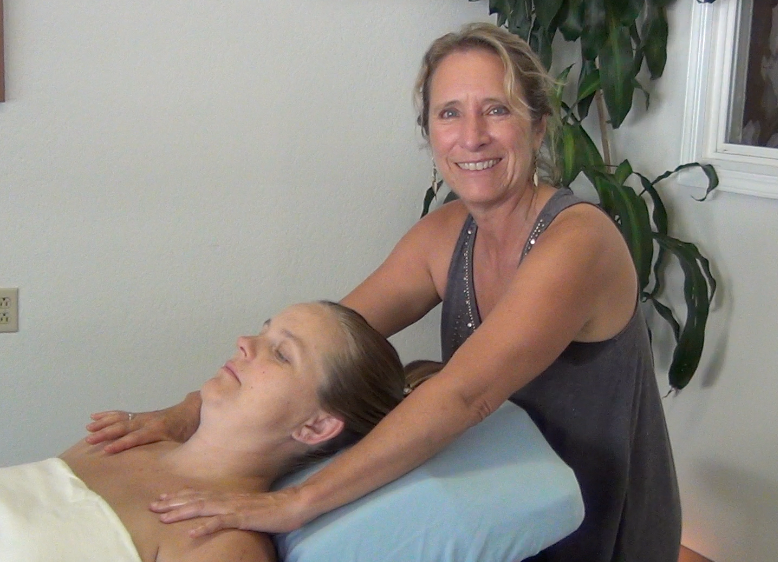 Gain skills and effective techniques useful for ALL your clients, while becoming a MotherTouch Certified Prenatal Massage practitioner!
MotherTouch™  Prenatal Bodywork Training & Certification is a 32-hour comprehensive, holistic Certification consisting of the Pregnancy Fundamentals Class and 3 more days of practical hands-on training.
TAUGHT WITH REVERENCE, APPRECIATION,  & RESPECT FOR THE BIRTH RITE OF PASSAGE.
Drawing wisdom from multi-cultural birthing practices, MotherTouch™ offers a truly holistic Prenatal Massage course.
Pregnancy is a unique 9-month experience accompanied by physical adaptations of posture, pelvic floor, low back and breasts and leading to a variety of musculo-skeletal complaints. In the MotherTouch™ Prenatal Bodywork Training, you'll gain respect for this potent rite of passage, while learning advanced manual therapy techniques to address common pregnancy concerns such as:
Sacro-iliac joint pain

Leg cramps

Uterine ligament spasms

Headaches

Anxiety

Birth preparation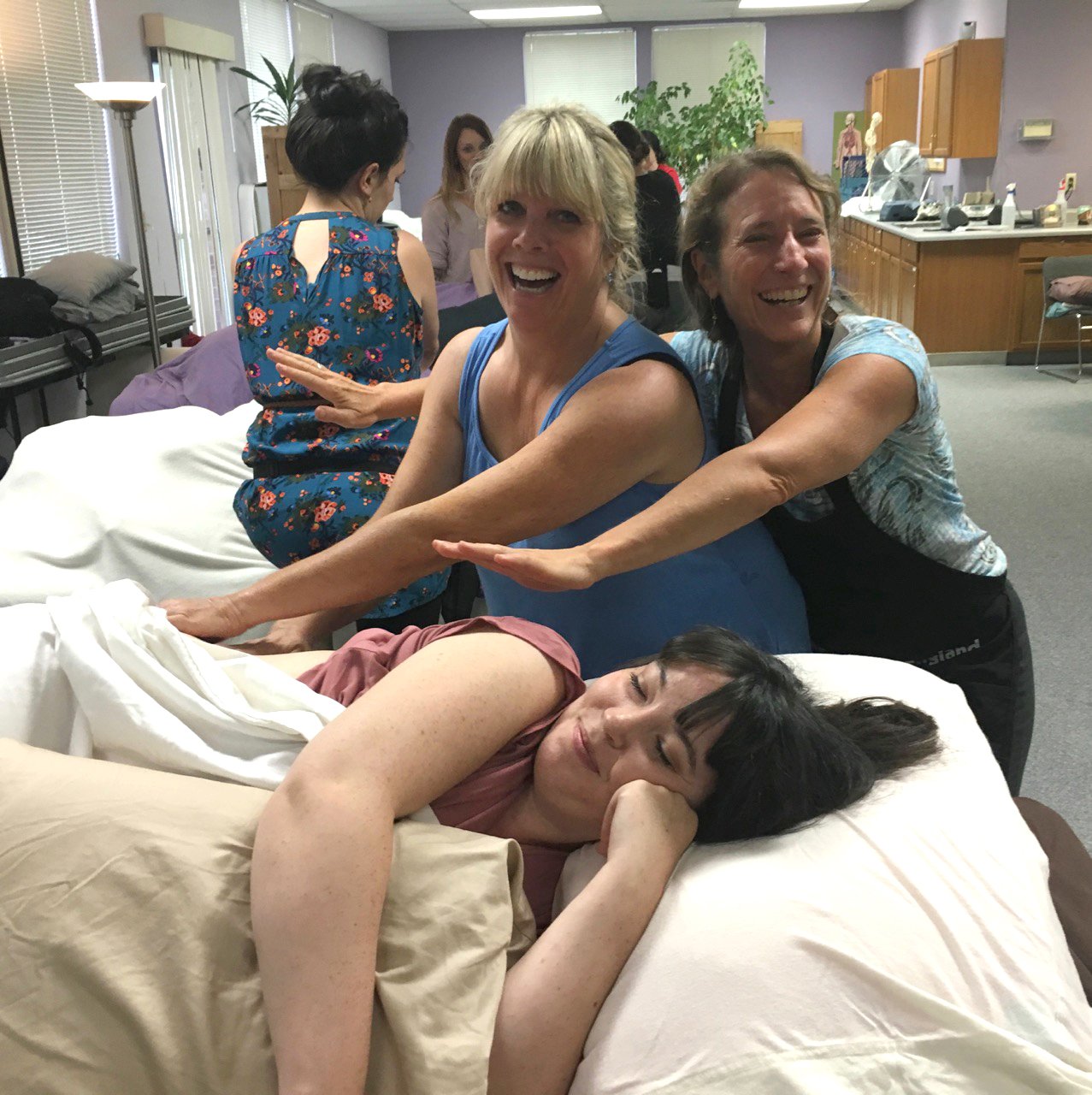 WHAT YOU'LL LEARN:
Benefits & Precautions of Prenatal Massage

Physiological changes and High Risk symptoms that impact your bodywork

Postural Assessment and Realignment Possibilities

Debunking all the MYTHS!

Optimal Sidelying, Prone, and Semi-Reclining Positions and Secure Draping

Sidelying Techniques that create length /space/ breath/unity

BodyMechanics for your comfort and optimal client experience

Assessing your client's needs

Adaptations for  your style of working

Marketing Approaches and Networking

Belly Massage & Diaphragm Release

Client Intake and the Medical Release

Specific Trimester concerns

Pelvic Alignment Techniques, Sacro-Iliac Joint and Pelvic Floor Release

Energy Assessment & Acupressure Flow

Breast Massage for Pregnancy

Birth Preparation Bodywork
GAIN CONFIDENCE! OFFER EFFECTIVE DEEP TISSUE, SWEDISH, ACUPRESSURE, FASCIAL RELEASE, STRETCH-RESISTANCE, ENERGY BALANCING TECHNIQUES FOR CONCEPTION THROUGH BIRTH.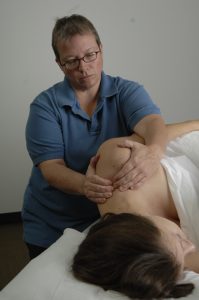 WHAT'S INCLUDED:
Extensive hands-on training

Lecture & Participatory Discussion

1.5 hour supervised pregnancy massage clinic

Individualized attention and evaluation of your application of MotherTouch techniques

Written exam

MotherTouch™ Prenatal Bodywork Certification upon successful completion
"I liked Leslie. I liked the way she taught and how she was very real. She took the tension of out of the experience and increased my confidence about going forward."
"Thank you so much for an amazing weekend! This was exactly what I'd been hoping for in a pregnancy massage class. I loved the integration of practical technique, anatomy/physiology, spiritual, energy work, honoring ancestry and lineage, and the embracing of womanhood/motherhood/humanhood. I feel so blessed to have been a part of this, and so much more deeply connected to the birthing experience, in so many respects. Can't wait to do this work, and continue learning and sharing. Everything included in the course content was really useful, and I am grateful for all of it. It was also wonderful hearing the wisdom shared by students from their expertise/experience."
C. Jenkins 2014: Student from Prenatal Bodywork Training
There are no upcoming events.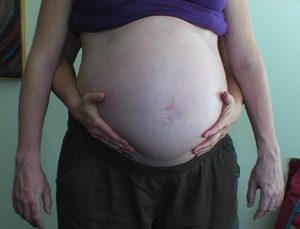 Mothertouch™ Maternity Massage Certification is typically offered twice a year at Oregon School of Massage and occasionally at other locations.  The most comprehensive prenatal, birth, and postnatal bodywork program available, the 65-hour certification includes 44.5 hours of extensive hands-on training, 17 hours of reviewed case studies, a written exam, and a final project. Those certified have more advanced training than the majority of pregnancy massage therapists in the country, with better access to employment as a prenatal and perinatal bodywork specialist.
Gain respect in the professional medical & birth community!  Become a trustworthy, skilled prenatal massage practitioner that clients seek out! EXPAND YOUR PRACTICE!
REQUIREMENTS FOR MATERNITY MASSAGE CERTIFICATION INCLUDE:
Prenatal Bodywork Training - 32 hours
Massage & Acupressure for Birth - 4.5 hours
Bodywork for the New Mother - 8 hours
Maternity Massage Certification Practicum - 21.5 hours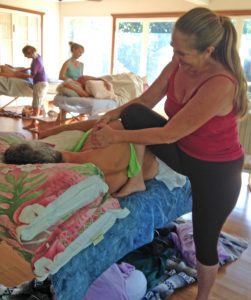 Leslie's years of birth experience as a labor and delivery nurse, doula, childbirth educator and perinatal massage specialist informs her teaching and trainings. She has been developing the Maternity Massage program since 1992. Read more at Oregon School of Massage.
"Leslie is friendly, informative, open to share life experiences and very well-read in her specialty. I'd love to take more of her classes."
R.T. Maternity Massage student.
"So wonderful! Motivational! Helpful! Healing! Can't wait to get my certification!"
Maternity Massage Certification Student
There are no upcoming events.
Leslie Stager RN, LMT is a NCBTMB approved provider # 451910-12, and the Prenatal Massage for Spa Therapists course fulfills NCBTMB CE requirements
Offered on–site and customized to meet the needs of your staff and spa.
This 12-hour course designed specifically for your unique needs can include any of the following topics:
Prenatal anatomy and physiology relevant to massage therapists
Emotional and practical concerns of pregnant women
Peri-natal cautions, contraindications, and pathologies relevant to spa clients
Debunking myths about pregnancy and postpartum bodywork
Bodywork adaptations based on gestational age (trimester)
Positioning, draping and bodywork guidelines per trimester
Proper use of sidelying and semi-reclining positions
Appropriate body mechanics for work in sidelying position
Myriad techniques for pregnancy massage, utilizing Swedish massage, myofascial release, acupressure, deep tissue, stretch-relax techniques
Recognizing bodywork concerns indicating potential risks during pregnancy
Essential information to include on intake forms
Physiological changes, precautions, & positioning relevant up to 4+ months postpartum
Some of the Spas Using MotherTouch Massage:

Mom & Jo Spa, Jakarta, Indonesia
Anara Spa, Grand Hyatt, Kauai, HI
Verde Touch, Los Gatos, CA
TESTIMONIAL from Anara Spa, Grand Hyatt, Kauai:
After having Leslie teach the Touch for Birth spa certification program we feel so much more confident and comfortable performing massage on pregnant women. She dispelled many myths that we had about massaging pregnant women and clarified the important issues to be aware of concerning the woman's well being. The course was well taught and informative. Leslie provided clear and concise information all in a 12 hour course. We learned techniques to address their common complaints and she eased our concerns about what we can do with massage do to be appropriate and helpful for women during pregnancy.
2018 Sophia Yost, Assistant Director Anara Spa.
There are no upcoming events.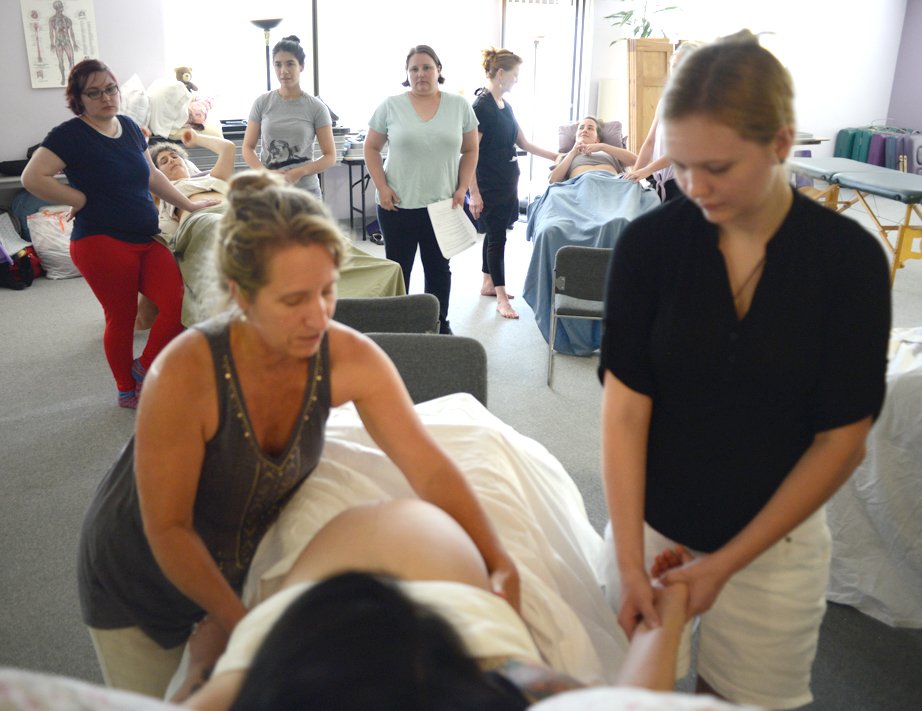 BODYWORK FOR WOMEN'S HEALTH TRAININGS
Pelvic pain, infertility, menstrual cramps, breast discomforts, and general reproductive health concerns are epidemic. Become familiar with the abdomen and boney structure of the female pelvis, along with its ligaments, muscles and organs. Utilizing cranial-sacral therapy, fascial release, stretch-resistance, along with respect, compassion, and subtle listening, you'll learn to address infertility, menstrual challenges, pelvic pain, menopause, and breast health.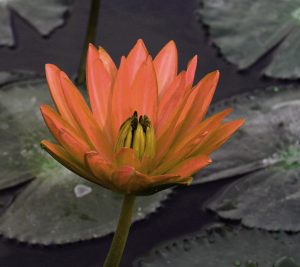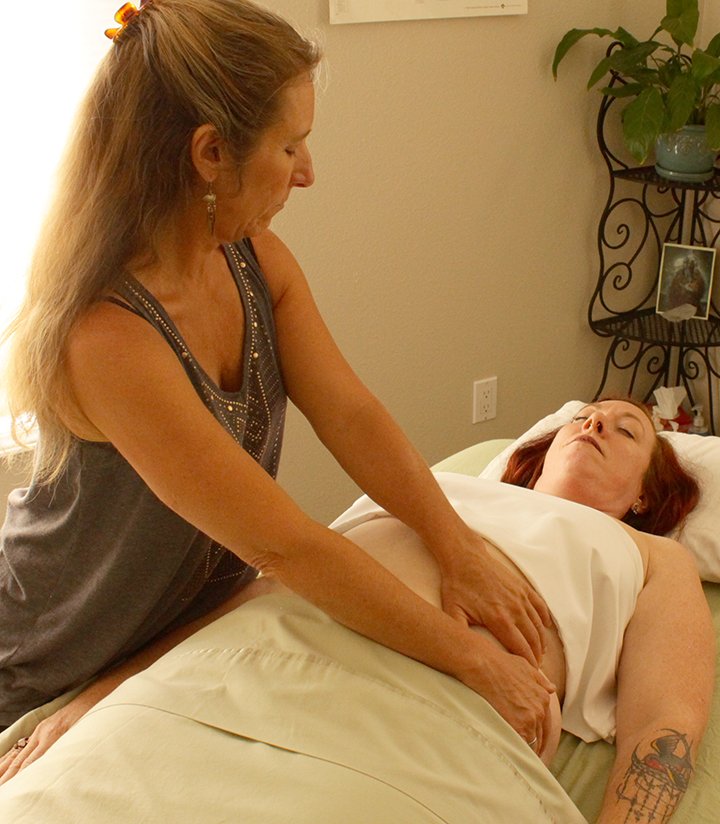 CLASSES FOR DOULAS / MIDWIVES / CHILDBIRTH EDUCATORS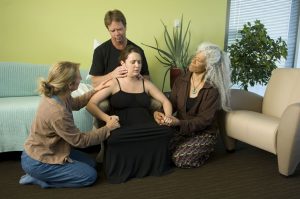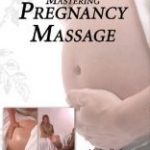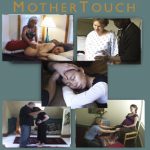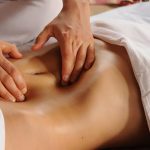 Massage & Acupressure for Birthing Class Preview
Student testimonial maternity certification
Student Testimonial Massage & Acupressure for Birthing
Student Testimonial Pregnancy Essentials
CE Courses with NCBTMB credits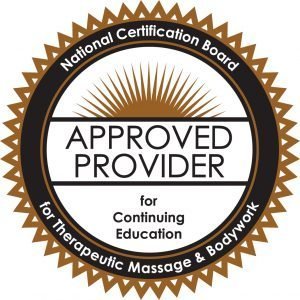 Earn massage CE's! Renew your NCBTMB Certification, state massage license, or AMTA / ABMP membership with any MotherTouch™ classes. All courses can be taken individually, or, become a Mothertouch™Maternity Massage Specialist through the 65-hour Certification program.
Doulas, Childbirth Educators, and Midwives will benefit from the Acupressure & Massage for Birth Classes, Integrative Pelvic Care, and Postpartum Doula Massage Trainings.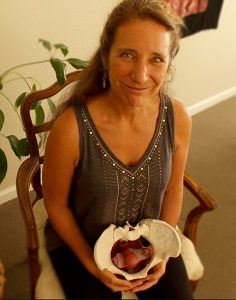 Pregnancy massage training with Leslie Stager
Leslie's classes are informal and fun, while still based in solid anatomy, pathology, and kinesiology information. She employs didactic, visual, and kinesthetic teaching approaches to help students learn easily. Detailed demonstrations, individual support, practical skills, and wholistic considerations give students a well-rounded and solid knowledge base. Student handbooks ground the information discussed, and a detailed textbook and DVD's are available to support your learning and assure that you will have plenty of options for review of the material.