Module II:The Belly
{Portland, OREGON}
November 18, 2018 @ 9:00 am

-

4:30 pm

PST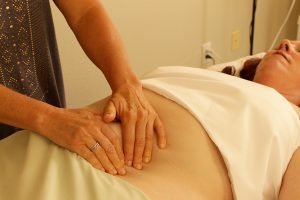 A focused belly session can be even more relaxing and potent than a full body massage, --but it requires attention, intention, and slow careful listening to allow the layers of protection to dissolve.
Learn abdominal work that encourages deep relaxation and healthy digestion. We use techniques that support peristalsis, reduce heartburn and constipation, nourish the kidneys, free the respiratory diaphragm, reduce scar tissue, and help clients regain connection to their Center of energy.
As the layers release, we can move in even more deeply to palpate uterus and ovaries, round ligament, and other pelvic structures and apply deep and subtle abdominal techniques to mobilize the womb, increase circulation, and reduce adhesions, menstrual cramps, pelvic pain, and mild organ prolapse.
This course is followed by Modules III & IV, focused on Bodywork for Fertility, Menstruation, & Menopause.