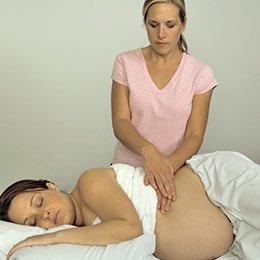 Leslie is an NCBTMB provider. This course offers NCBTMB approved CE's. Increase your client base. Gain skills and effective techniques useful for ALL clients, while becoming certified as a Prenatal Massage practitioner!
MotherTouch™ Prenatal Bodywork Training & Certification is available in various locales around the globe. This 32-hour comprehensive and holistic certification program consists of the Pregnancy Fundamentals Class and the Advanced class, as well as two more full days of hands-on training. Drawing wisdom from multi-cultural birthing practices, MotherTouch™ offers a truly holistic prenatal massage program. Leslie approaches the work with reverence and deep appreciation for the rite of passage that women undergo as they become Mother. Upon successful completion of the courses, ( 32 hours of extensive hands-on training, lecture, participatory discussion, pregnancy clinic) as well as a written exam, the student will receive the MotherTouch™ Prenatal Bodywork Certification.
Pregnancy is a unique 9-month experience accompanied by physical adaptations of posture, pelvic floor, low back and breasts and leading to a variety of musculo-skeletal complaints. In the MotherTouch™ Prenatal Bodywork Training, you'll gain respect for in this potent rite of passage, while learning advanced manual therapy techniques to address common pregnancy concerns including sacro-iliac joint pain, leg cramps, uterine ligament spasms, and headaches. Gain confidence with draping and positioning, recognize the difference between pregnancy massage myths and real precautions, and offer effective deep tissue, Swedish, acupressure, myo-fascial, and other bodywork techniques that address client's shifting needs from conception to birth.
In this 4-Day, Comprehensive Certification Course you will learn skills that enhance comfort for yourself and your client!
• Benefits & Precautions of Prenatal Massage
• Physiological changes and high risk symptoms that impact your bodywork
• Postural Assessment and Realignment Possibilities
• Optimal Sidelying and Semi-Reclining Positioning & Secure Draping
• Sidelying Techniques that create length /space/ breath/unity
• Pelvic Alignment Techniques, Sacro-Iliac Joint and Pelvic Floor Release
• Energy Assessment & Acupressure Flow
• Breast Massage for Pregnancy
• Bodywork to Support Impending labor & birth
• Supervised Pregnancy Massage Clinic
• Bodywork Adaptations
• Marketing Approaches and Networking
• Belly Massage & Diaphragm Release
• Body mechanics for all positions
• Client intake and When to use a Medical Release
• Specific Trimester concerns
• 1.5 hour supervised pregnancy clinic
"I liked Leslie. I liked the way she taught and how she was very real. She took the tension of out of the experience and increased my confidence about going forward."
---
Upcoming Courses:
{loadposition adv-prenatal-cert}