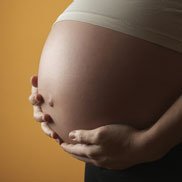 Your new Client is pregnant:
What if she can't lay comfortably on her side, nor safely on her back?
Is your bodywork modality contraindicated during pregnancy?
What if she has contractions during a session?
Most practitioners see an occaisional pregnant client, but few know the real risks, benefits, or safety measures that ensure optimum care for their client.
Practice safely and effectively with more confidence! Pregnancy Massage Fundamentals presents essential guidelines to improve your body mechanics, understand your limitations, and offer mother's greater comfort.
You'll learn about:
Pregnancy physiology that affects your practice.
Prenatal Touch precautions and contraindications
Signs and symptoms of pregnancy pathologies
Positioning and Draping options
Clarifications of myths and realities about pregnancy massagse
Impact on pregnant women and child in-utero
Bodywork adaptations through the perinatal cycle
Optimizing circulation, decreasing edema, joint protection in sidelying
This class is the First day of the 4-day 32-hour Prenatal Bodywork Training & Certification
---
Upcoming Courses:
{loadposition fundamentals-prenatal-massage}