BODYWORK FOR WOMEN'S HEALTH
Nevada City, CA
Bodywork focused on women's unique needs–Pregnancy, Birth, & New Motherhood

Pelvic health, Menstrual-Womb concerns, Infertility, & Menopause!

The root of all health is in the brain.
The trunk of it is in emotion.
The branches and leaves are the body

The flower of health blooms
when all parts work together.
– Kurdish folk wisdom
Note: I use Body Support Cushions that make receiving massage Much more comfortable than flat on the table!
No breast compression, no low back strain—Large breasted, lactating, and pregnant women will love them!
Lying Face up, your chest opens and allows for great access to the spine from below.
During pregnancy, sidelying position relieves shoulder compression, supports the belly, and allows for deep hip and leg work.
Face down, the spine lengthens and low back pain is relieved but you also have space for most size bellies using extra cushions with holes that give support but prevent belly and breast compression.
Since 1991 I've specialized in prenatal, birth and postnatal, and women's health bodywork. I developed and teach worldwide the MotherTouch™ Prenatal Bodywork Training & Certification and am author of the textbook Nurturing Massage for Pregnancy.
PREGNANCY MASSAGE: Relaxing, Restorative, Therapeutic Massage reduces stress, eases aches and pains, supports optimal baby positioning, and helps you prepare for and recover from birth. I offer a variety of bodywork approaches: Swedish, Deep Pressure, Myofasical Release, blended with Cranial Sacral, Acupressure, or Subtle Energy Work, whichever you prefer and in whichever position is optimal for you and baby.
Positioning Options include face-down with special cushions, sidelying, or semi-reclining. You and your baby's comfort and well-being are my focus!
ACUPRESSURE FOR BIRTH–PRIVATE LESSONS & SESSIONS: Birth couples and support teams benefit from private sessions with Leslie to explore supportive comfort-touch techniques to use before and during birthing time! I've attended over 500 births and have used all these techniques. OR watch videos of my techniques at www.TouchforBirth.com
POSTPARTUM RENEWAL: The most challenging time is the weeks after birth. Whether the birth went exactly as you hoped, or became a difficult story that's been left unprocessed, Leslie's supportive listening, blended with skilled bodywork can encourage relaxation, recovery, and release. Leslie has attended hundreds of births as nurse and doula and appreciates the wide range of experiences possible on this intense journey to motherhood!

POSTPARTUM OFFERINGS INCLUDE:
*** Cesarean Scar Tissue Massage to facilitate emotional-physical healing from surgery.
*** Holistic Pelvic Care™ to reduce pelvic pain, hip pain, scar tissue, bladder incontinence, minor prolapse, and help address physical-emotional challenges of birth.
*** Closing the Bones to help close energetic, emotional, physical openings from birth and renew a sense of wholeness.
*** Acupressure Postpartum Renewal: A full acupressure session devoted to postpartum healing.

*** Diastasis Recti Assessment helps you understand the condition of your abdominal muscles that can stretch apart during pregnancy and which may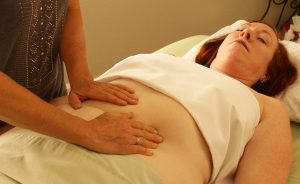 need extra attention to regain tone.
*** Pelvic Floor Assessment: What's happened down there since birth?
Gentle external and internal myofascial release, hip mobilizations, rebalancing techniques, and abdominal bodywork to restore pelvic health and vitality.
An empowering therapy for reproductive healing that can improve pelvic pain and conditions related to endometriosis, polycystic ovarian syndrome, amenorrhea, annovulation, secondary fertility challenges due to primary c-section, tubal blockage by incorporating movement and restoring blood flow to the pelvic organs, re-optimizing function of the pelvic region.
Women with past infections or tubal reversal often have scar tissue or mucous plugs that can be released with deep manipulation.

Treatment consists of 90 minute sessions for up to 5 weeks of deep pelvic organ visceral manipulation and guidance in self-care practices that are important for your Womb-Connection, including vaginal steams, castor oil packs, and essential oil use.

You can start monitoring your cycles once we finish the work and you start your next cycle, but you can also keep trying to get pregnant during our sessions.
If you need to move on to IVF, this bodywork helps you prepare for that route by increasing womb health and circulation before embarking on that journey, giving you a better chance of success.
Flowing strokes of Swedish massage blended with myofascial unwinding, acupressure, cranial sacral and deep tissue manipulations can de-stress your mind and body and restore your sense of centeredness and presence. Try massage in the sidelying position—the most relaxing way to receive bodywork!
Get focused manual therapy sessions for specific conditions. We enter "body-time" allowing for scar tissue to release, emotional tension to dissolve, and the natural mobility of the body to be restored.
Hip and pelvic pain Sacro-iliac discomfort
Sciatica Carpal tunnel syndrome
Stiff neck Headaches
Scar Tissue/Adhesion Release Belly Tension & Indigestion
Menstruation and Menopause

I struggled for years with womb health issues–severe menstrual pain, ovarian tumor, and fibroids. I explored herbal, dietary, spiritual, emotional treatments and ancestral impacts. After many years I underwent surgery several times. I understand well the strong desire for womb-pelvis-ovarian health, and the vital importance of womb-healing. Scar tissue work, Abdominal massage, and pelvic bodywork all helped on my journey of healing and recovery.
I use bodywork to restore awareness, breath, and energy to the pelvic region and increase circulation to the womb and ovaries, relieving menstrual cramps, and bringing a new vitality and connection to this sacred, potent, creative space.
SPECIALITY SESSIONS INCLUDE:
ACUPRESSURE MOONTIME RENEWAL
MAYAN ABDOMINAL MASSAGE
ACUPRESSURE MENOPAUSE VITALITY SESSION
Products

I'm the author of Nurturing Massage for Pregnancy, the co-producer of MotherTouch Films, and instructor on the DVD Mastering Pregnancy Massage. Check my products & services at www.TouchForBirth.com